What Should You Do If Your Garage Door Is Off Track?
This is a common problem with automated overhead garage doors. This is usually a problem that requires urgent attention for safety reasons. If you are able to identify the problem in time, it can save you from undesirable headaches. The most important part is that it can prevent any further damages when you identify the signs.
Stopping operation
Before doing anything else, stop its operation, or you may end up looking forward to serious damages. Figure out how to stop and disconnect your garage door. Check the center of the track for a hanging rope and pull it to disengage the opener.
Identify the cause in order to find the solution
Manually lift the garage door to examine the track. There are several possibe reasons why your garage door could have gone off track. The tracks may be loose or dented. A loose track is a common cause of a garage doors malfunctioning and getting off track. Check the rollers to confirm that they are clean and lubricated. Dirt and debris get stuck on rollers and coats them. There could be other loose parts throwing your door off track. Give your garage door system a thorough investigation to find out if any of the parts require to be cleaned, replaced, tightened, or lubricated.
If you are still in doubt and still find yourself scratching your head and not being able to figure out what is wrong with it, it is then time for you to call a professional all a professional repair company that deals in fixing garage doors such as our company. Our professionals can do an examination of your garage door, its rollers, tracks, and all its other working parts to quickly determine the problem and use their tools (and experience) to implement a solution swiftly.
If apart from the track, other parts have to be replaced, then a professional garage door repair service can also do that for you instead of giving yourself a hard time trying to solve the problem yourself. Spare yourself the headache. Feel free to contact s and book an appointment. We offer high-quality garage door repair, maintenance, and replacement services.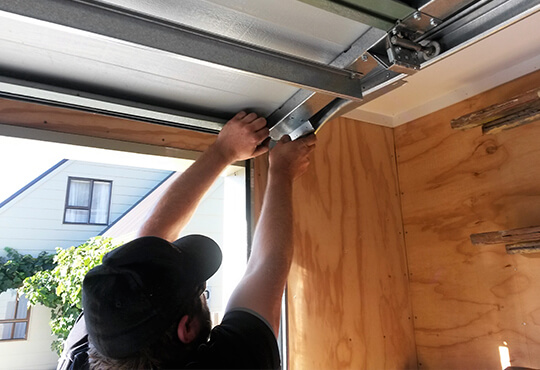 Maintenance Tips
The following tips can be followed to keep a garage door well maintained:
Tighten the garage door hardware.
Clear away rust from the door.
Clean the tracks and level them.
Test if the Auto-Reversal Feature is working properly.
Thoroughly Clean the Garage Door.
Replace Weather-stripping every once in a while.
Lubricate Moving Parts of the garage door.
Balance the Garage Door.
Don't Skip Garage Door Spring Maintenance.
Check for Anything Unusual.
Fast Door Track Repair Services
Having trouble with your garage door track? We are here to help. We offer very fast door track repair services. We have professionals who can have your garage door track fixed and put back in position in no time. Our company is dedicated to the repair, installation, and maintenance of garage doors. Call us now to book an appointment. We look forward to serving you.
Don't Hesitate to Contact Us