A few years of continuous use of your garage door can cause your garage door springs to break. No matter the kind of spring your garage door uses, our employees will be able to replace your garage door springs. They have years of experience servicing various types of garage doors.
Replacing garage door springs requires the hands of professionals than attempting to replace it on your own. Trust a professional to do it for you for the best outcome.
Garage Door Spring Dangers
Garage door springs do a lot of work, and eventually, they are bound to break. Trying to replace them on your own if you lack the knowledge is highly not recommended. Replacing garage door springs have injured many people over time. Better to let a professional do it for you.
Torsion Springs vs Extension Springs
Garage springs come in two types. Torsion and extension springs. These are the reasons why torsion springs are preferred over extension springs.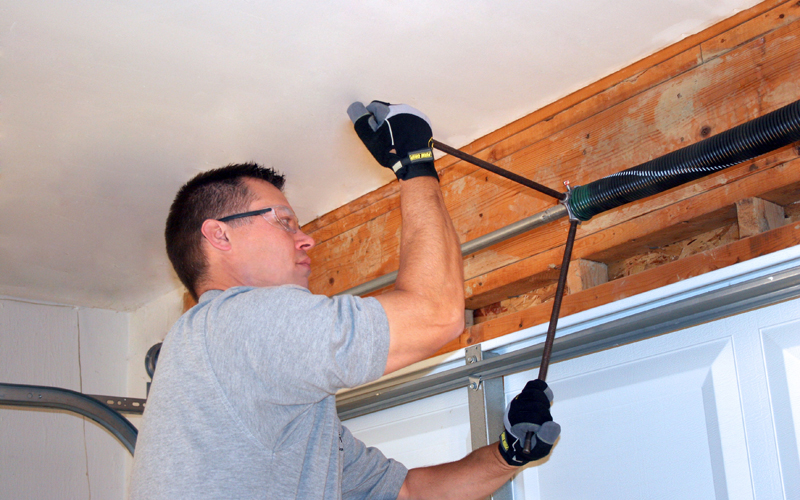 Extension need more parts than torsion springs
Having more parts means that there are greater chances of something going wrong. The extra door parts needed for torsion springs can wear and tear.
The breaking of extension springs is more dangerous than torsion springs
Extension spring breaks, it can cause serious damage. They sometimes fly through the garage when they break and may hit someone and hurt them badly; in some cases they can even cause death. Torsion springs do not fly off when they break, therefore making them safer.
Using torsion springs wear your operator less
Springs enable overhead operators to function without wearing out unnecessarily. The operator does not need to apply much work into the opening and closing the door as it is well balanced by the torsion springs.
Torsion spring controls motion perfectly
Springs sometimes cause jerking motions. Torsion springs keep the garage door in a stable motion when it is being opened or closed. The impact of this controlled motion is that the door will have the ability to maintain proper balance.
Jerking motions from the extension springs can make you have to make adjustments to the door. When out of alignment, the door can cause damage to the other parts.
Torsion springs have a longer life span
May be expensive, but they can last a really long time as they are of better quality than extension springs.
Torsion springs have a limited extension
When the garage door is open, torsion springs extend less than extension springs. When using an overhead door, torsion springs only turn while extension springs expand and contract fully.
How Much Does Spring Repair Cost?
The cost of repairing a garage door spring usually ranges between 150 dollars and 350 dollars. This covers both the labor and the materials needed. On average it costs about 250 dollars. If you are using multi-door garage doors, then you will need to pay an extra amount, which totals about 500 dollars. Lubricating springs cost between 50 to 100 dollars. These materials cost between 30 and 200 dollars on their own, including a set of springs — labour costs between 75 and 150 dollars.
Don't Hesitate to Contact Us